Thailand is a stable country with long history and comprise of peace loving people. Thailand has been peaceful and happy for generations. Majority of Thai people earn their living by being in the work force in agriculture and farming sector which has been the main occupation since the days.

At present, Thailand has faced with severe economic crisis, thus unemployment rate has risen. At the same time, developed countries seek work force to fill requirements in their markets which seems to be increasing. Thai work force has peoven to be reliable and enjoyed good reputation. In 1998, statistics indicated that 191, 735 Thai workers went to work adroad. It showed that quality and efficiency of Thai work force have been well recognized.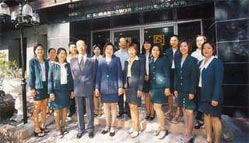 In respond to the Thai government policy on promotion of Thai work force into the over seas market for earning foreign currencies, K.S. Manpower Supply Co., Ltd. was established in 1984, the licensee No. TOR 843/5237, with the objective of providing recruitment services to Asia countries. During the past 18 years, the Company has expanded its operation to cope with the increasing demand. With experience and expertise of over ten years, we are able to provide quality manpower supply into the markets. K.S. Manpower Supply Co., Ltd. received awards for the best company in this field for four consecutive years (1994-1997).

In addition to our dedication to help in the country's development an enhancement the quality of life of Thai people, we strive to improve in order in order to cope with the changes of requirements and technological advancement. Modern communication equipment are used in our offices in order to provide prompt and accurate services. Most importantly, the customers will not be disappointed with the services of K.S. Manpower Supply Co., Ltd.

In addition to having efficient offices and personnel, we have the capabilities to serve our customers in speedy manner with our networking of several branches around the country. Therefore, you can be certain that if you use the services of K.S. Manpower Supply Co., Ltd. We guarantee definite satisfactory.